July. 25.2011
Because of health and technical issues we can't support "This Misery Garden" on Holy Autumn 2 on Sep. 3rd
We are sorry for that and hope to play for you live as soon as possible
July.2.2011
Shop is online!
The new M.O.S. Shop is online and the Erben der Schöpfung CD's and Merch are available again!
Feel free to visit and place orders. :)
June.2.2011
"Holy Autumn Vol. 2" got shifted to Sep.3.2011!
The concert "Holy Autumn Vol. 2" at the Metalvetia club in Herisau (CH), initially dated on Sep.10.2011 got shifted to Sep.3.2011. We are looking forward seeing you one week earlier!
April.28.2011
Erben der Schöpfung live!
Erben der Schöpfung will be live at "Holy Autumn Vol.2" on Sep.10.2011!
For more details visit our "concert dates"
Mar.1.2010
Interviews
Subsequently there are two interviews to look at. Have fun!
FemmeMetal.net and Obliveon.de
Jan.7.2010
Reviews
For the ones not convinced yet to get our album we've got some CD-reviews online. You can red them right here.
Dec.24.2009
Making of and Happy Chrismas!
Now the video of making the clip "Jane Churm" is online. Watch it on Youtube or in our video section.
And then we wish you a happy christmas and a merry new year! And keep in mind not going to church at new years eve! ;)
Dec.14.2009
Lyrics
Since we do not have the whole lyrics in our albumbooklet we decided to put it online. You will find them in the Band-Section under Lyrics.
Have fun!
Nov.27.2009
Album and Videoclip out now!
Today our album will be in stores too so go out there and get it! Officially it got released last Friday but now its also available in usual stores all over.
We also released our videoclip to "Jane Churm" today sorry for beeing a week later! You can get it as bonuscontent of our Special Edition Box of "Narben der Zeit" or watch it on our Youtube channel or in our video section on this page. Have fun listening and watching! This is for you guys! Thank you for waiting!!
Nov.26.2009
Erben der Schöpfung Merch
Matching the actual release "Narben der Zeit" the Erben der Schöpfung Merchandize is out in our shop now!
You'll find diverse shirts, mug, ashtray and more and of course our CD releases. Have fun browsing!
Nov.20.2009
Get Narben der Zeit partial!
We are happy to let you know that our new album "Narben der Zeit" is out now! Since we had little struggles in the last two weeks the album will be out in the stores next Friday Nov. 27. for sure.
But you already can order it at our online shop!
It is also available as rare limited Special Edition Box.
Oct.27.2009
Review
Another review is online on: FemmeMetal.Net
Oct.6.2009
Prelistening Review
The very first and exclusive pre-listening review is online!
Written by Svenja "Calla" Rogalinski, "Chief" of our official EdS Support.
Thank you Svenja!
You'll find the review here in the blog: EdS Support
(English version is following)
Oct.5.2009
Videotrailer
The trailer to the upcoming videoclip of "Jane Churm" is online now. The videoclip will be out right after the album is in the stores on November.20.2009!
Get the trailer here
Oct.3.2009
Rare deluxe edition box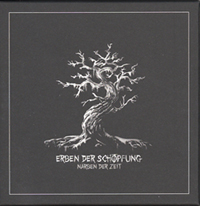 Narben der Zeit will also be available as rare limited deluxe edition box. Including DVD over 50 min, lighter, patch and 3 Stickers.
The DVD includes:
-Interviews
-Bandhistory
-Studioreport of Narben der Zeit
-Videoclip of Jane Churm
-Making of Video Jane Churm
This special will also be released with the regular jewel case edition on Nov.20.2009
Sep.27.2009/2
Prelisteningsamples and Downloadsingle
Since date of release is out we want to give you some of the new tunes to listen to. Prelisteningsamples you'll find here.

We also prepaired a downloadsingle for you guys to shorten time until you get the album and to thank you for waiting!
Get "Leaving" here.
Sep.27.2009
Releasedate
We are happy to announce the releasedate of "Narben der Zeit"!Our new album will be out on Nov.20.2009
Sep.25.2009
EdS is on "Twitter" now. Follow the news and get connected!
Sep.17.2009
Soon the new album "Narben der Zeit" will be relased and also the website got an overhaul. New design, new features and now hopefully also running perfect for "Explorer user".
Releasedate, prelistening samples and a little surprise will be online within the next few days.
Hit it!
July.9.2009
Recordings are done!
On last resorces we finally finished the recordings for our album. We are facilitated and proud of the material waiting for you!
Now we hope that our devices are on our side for once to finish the album completely as soon as possible and to set a date for the release.
June.20.2009
The 9th and last day of the studiodiary is online now. Olli and Dina were finishing recording vocals for the album today.
Have fun reading the last part of the diary for this time.
June.15.2009
Day 8 is on! There we go!
June.13.2009
We finally got started on recording the bassguitar and also went on recording the vocals.
Another part of the studiodiary is online. As usual...here ;)
June.6.2009
There just has been coming in day 6 of the studiodiary! There we go...
June.5.2009
Today for Day 5 of the studiodiary is online also...here.
June.4.2009
The next part of the studiodiary is online! Dina wrote about day 3 and 4 of recording vocals ...get it here.
June.3.2009
Guitarrecordings are done! Flo, Jens, Tobi and Rino did a great job and we started warming up to record vocallines this afternoon. The studiodiary will also be updated as soon!
May.30.2009

Finally the guitars are going to be recorded for the upcoming Album "Narben der Zeit"!! Yesterday evening the studio got prepaired and all the camcorder batteries got loaded to keep an eye on the guys. Stay tuned! It won't be long anymore!
March.30.2009
Our Labelshop is online now. You now can browse through and order the merchandizing of Erben der Schöpfung.
December.9.2008
Last weekend the second and last day of shooting the videoclip got through. The pictures that go with it are coming soon.
November.9.2008
This weekend we had our first day of shooting the videoclip for our song "Jane Churm". Pictures from behind the scene you will find in our gallery soon. More will follow!
October.11.2008
We also finally caught up with the first part of our studiodiary. There we go and if you'll find grammar faults...leave them where they are! ;)
October.10.2008
There we go. Finally another Video to shorten time...here.
August.16.2008
Yes, we were industriously. Out of that reason there have been developed more new songs than just for an EP which we don't want to hide any longer.
So the EP becomes an album but that also means: we need more time to process the additional material. Because of this we'll ask you once again and for the last time for patience. Waiting for this will not be in vain.
There will be surprises in each booklet, next to this the special edition will be enhanced by a bonus DVD and before all this there will be the brand new songs.
We will keep you up dated on this process regularly with a Studiodiary.
August.10.2008
Another Video of the recording has been uploaded. Get it here.
August.07.2008
because of legal situation we had to rename our EP. Instead of "Niemand kennt den Tod" it will be "Narben der Zeit" (Scars of Time).
Also we can't releaze the Song "Niemand kennt den Tod" on it because of the same reason. For those who still would like to hear the new version of this song will get the opportunity at our live-performances. We are sorry for this!
August.03.2008
In our "Video" section there are two brand new videos out of the studio. They show the recording of bass and guitar for the upcoming EP "Niemand kennt den Tod".
Have fun! (:
March.14.2008
There are new banners on. Feel free to use and post them! :)
March.13.2008
Our official EdS Forum is now also available in English. You'll find some help for registration under "Forum and General (English)". If there still are things unclear please feel free to contact info[at]erben.li and we will help you getting registered.
March.08.2008
We are proud to announce that we have two new bandmembers!
Jens Wagner on Bass and
Flo Riederer on Guitar
March.01.2008
Finally it is done. After a "little break" www.erben.li is online again.
New and up to date there is an official Band Forum (english version is processing) which we removed from the old (nightshade Forum). It is renewed and peronalized now. Next to a "news talk" and various bandtopics to discuss there is also a "your Space" thread just for you and anything you might want to write about. Please read the Rules before you start to discuss. Comments and suggestions are welcome!
Under "Statement" we explaned our position about "Erben der Schöpfung are NOT the same band as Elis". This is no our side of this whole story presented and proved. Questions will be answered and the chaos will be tidy. If there are remaining questions after reading this statement please use the associated thread in the forum. We will not answer questions in the guestbook anymore there for is the forum. We thank for your understanding.
Last but not least we thank you for your patience and wish you subsequently all the best for 2008! Have fun rummage on our new web page! :)
Olli, Rino and Dina